OEBB members,
experience healthcare that

revolves around you
Powered by
Moda Health and Delta Dental of Oregon are making it easier to choose and use the right plan for you and your family. Our health plans give you better benefit choices, better care and our largest network - Connexus. Plus, you get our Moda 360 team of Health Navigators to connect you with the care, resources and programs that will work best for you.

Get the CirrusMD app to connect with a doctor via text, 24/7 at no cost to you. No appointments necessary. Use the app to:
Ask urgent or general health questions
Message, share photos or video chat
Get peace of mind, even at 2 a.m.
Help reduce stress, depression and everything in between with a 12-week therapy program offered through Meru Health. Enjoy:
Confidential access to a personal, remote therapist
Mindfulness and behavioral techniques that can be practiced anytime
Wearable biofeedback training to increase focus and manage stress
Plan summaries and presentations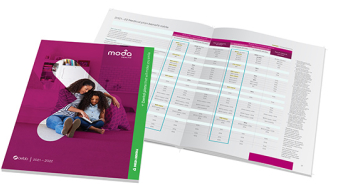 With Delta Dental of Oregon plans, you'll receive access to the Delta Dental network of providers, the nation's largest network.
The Delta Dental Exclusive PPO plans are affordable options that use the Delta Dental PPO network. Since providers outside of the network are not covered, be sure to confirm that your provider is part of the PPO network.
For additional plan details, see your Member Handbook.
Quick Search for Providers
Dental
Medical
Pharmacy
Vision
Cost sharing is waived for COVID-19 vaccines.
Cost sharing is waived for COVID-19 testing needs, including:
A telehealth or in-person visit to be evaluated for COVID-19 testing
Provider office visit, urgent care center visit or emergency room visit to be tested for COVID-19
COVID-19 lab tests for all testing facilities
Serological antibody tests
This is applicable to in-network and out-of-network providers, facilities and laboratories. Members enrolled on a high deductible health plan (Medical Plans 6 or 7), the above services are also covered at no member cost share with the deductible waived
Member cost-sharing is also waived for the in-network treatment of COVID-19, both inpatient and outpatient, and FDA-approved medications administered inpatient for the treatment of COVID-19, for services received March 1, 2020 - December 31, 2021, or the end of the Federal Emergency Order, whichever comes first.
The Well - Our Seasonal Newsletter
We know you're busy, so we've kept it simple: Each edition of The Well is a quick read, with practical ideas to help you stay on the path to better health and clear information about your benefits, so you can make the most of your wellness journey. Think of us as your source for healthy inspiration, news and advice.
Questions?
We're here to help. Just email OEBBquestions@modahealth.com or call your Moda 360 Health Navigators:
Medical/Vision:
866-923-0409
Pharmacy:
866-923-0411
Dental:
866-923-0410
TTY users, please call 711
You can also chat with a Moda 360 Health Navigator by logging in to your Member Dashboard.
We're sorry, this information is not available in . Please use the dropdown at the top of the page if you would like to view information for another state.